Newfoundland and Labrador-based composer Andrew Staniland tells us about his latest work, Ramadan 20 vs. Covid 19, commissioned for the 2021 NYC songSLAM Festival by Sparks & Wiry Cries.  The work premiered on January 22 to great acclaim, and here Andrew and pianist Erika Switzer reflect on the process of creating this new art song piece, which explores the relationship between life, faith, race and death.  Soprano LaToya Lain performs with Erika, using poet jessica Care moore's words. The work can be watched on YouTube and scores are now available for purchase: https://www.youtube.com/watch?v=L1KOJO9ZiBo
How did this commission come about? Is it your first time being involved with Sparks & Wiry Cries?
AS: I have enjoyed a long musical relationship with Erika Switzer and Martha Guth, the co-directors of Sparks & Wiry Cries. Both have been important supporters of my work, and were co-commissioners with Brooklyn Art Song Society of my song cycle Earthquakes and Islands, our critically acclaimed release Go by Contraries on Centrediscs. They approached me in early 2020 about working with the Detroit-based poet Jessica Care Moore to create a new work for Erika and LaToya Lain. I was excited to work with Jessica,  whose poetry and activism are vital and inspiring (Check out her work here!). After our first meeting, I knew that together we could make something powerful and wonderful for Erika and LaToya to play.
The logistics of putting this together during the pandemic must have been considerable technically. Have you worked together with these artists as an ensemble before?
AS: It was all done by distance, which is kind of miraculous when you think about it. We communicated and rehearsed by text and Zoom. Jessica recorded her poem at a studio in Detroit. Erika recorded her piano part at Bard College in New York's Hudson Valley. LaToya sang her part in North Carolina. I wrote the music in St John's. The striking video was assembled by Neville Braithwaite and Matthew Principe in NYC using striking images by Detroit photographer Brian Day. And the whole thing not only works, but is astounding! It is a real marvel of music making in the pandemic.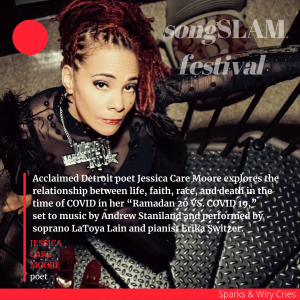 Why was this project important to you personally?
This piece speaks to our now – it is about COVID19, and about Black Lives Matter, and about religion, and about politics. It is about being human. It is about hope and fear, and above all, for me at least, about our capacity to be made anew.
I also must say that there is nothing so rewarding as good collaboration. We all brought our best to the table and created something that became greater than the sum of its parts. For instance, take Jessica's poem:  It is a complete work of art, hard-wired with its own musicality and phrasing. Brian Day's photos need no augmentation. But when all is brought together, something even more magical became possible!
How do you see art song evolving as a contemporary composer (festival producer)?
ES: Art song has always been an evocative and efficient space for capturing reflective snapshots of time and place. Where the technological development of the piano once played a large role in the evolution of art song style and reach, now digital technology is furthering its impact. Our current moment, in its overwhelming overlapping realities of social outrage, political strife, and staggering health and welfare concerns, is creating a deep and fertile space for creative expression. I am deeply moved by songs that capture our complex times and hopeful for the continuing relevance of the genre.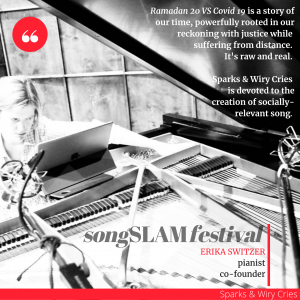 What continues to inspire you as a musician/composer during the pandemic?
AS: There is no question that it is easy to become disheartened due to the collapse of live music in the pandemic. We carry because we must. And in doing so, if you look closely you see some small bright lights here and there, this project being one of them. I have seen some remarkable online events (music on main's Graveyards and Gardens being a major stand-out). We need music of our time more than ever, and as creators we will continue to find a way forward. We will get through this and be back in the concert halls, and until that happens, we will continue to create in the best way we know how.